Hide a message in a character grid.

Does it require an electronic device? No
In this example, we will use the free scape.enepe.fr website which allows you to create a secret message by integrating it into a character grid, but it is possible to use other websites that offer the same manipulation.
Click on the link to access the character grid.
In the "Secret message" box, enter the message to be revealed (text, word, numbers…).
In the "Key" box, specify the characters that will reveal the boxes to be coloured.
In the "Parasite" box, indicate the parasitic characters completing the grid. Here, three methods are possible: personalised with a maximum of 10 characters, automatic with numbers or automatic with lower case letters.
You can show or hide the solution by clicking on the pencil symbol.
Once you have written your secret message and personalised it, validate it by clicking on the two intersecting arrows. You can then print the grid by clicking on the printer symbol. You can also print the solution.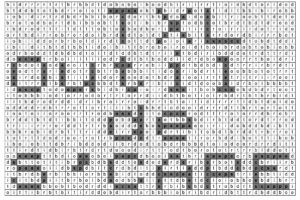 https://scape.enepe.fr/ressources/txl/
Find it here