Generate an integrated secret message among coloured letters. The reading requires a developer which is a red colour filter.

Does it require an electronic device? No
In this example, we will use the free eduescaperoom.com website which allows you to generate polychromatic message, but it is possible to use other websites that offer the same manipulation.
Click on the link to access the polychromatic message generator.
In the first dedicated space, insert the text you wish to hide.
In the second space, choose the maximum number of letters you wish to insert between each character. Then in the third space, the characters you want to appear: number, letter, symbol.
Choose the size of the letters.
Click on "Codify" to see the result. If you want your result, you can click on the "Apply red filter" button.
To save your output, you can take a screenshot. Reading your secret message requires a developer, which is a red filter.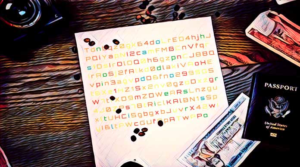 https://eduescaperoom.com/codificador-de-colores/
Find it here