Cut a picture into squares to create paper or digital puzzles.

Does it require an electronic device? No
In this example, we will use the free postcron.com website which allows you to cut images into squares, but it is possible to use other websites that offer the same manipulation.
Click on the link to access to the cutting of the image your choice online.
Click on the "Upload image" button. The image should be no larger than 10 MB and in JPG, PNG or GIF format. We recommend these image sizes depending on how many parts you want to split your image into.
Click on the "Select or drog your image file here" here.
You then have access to the module for cutting the image into squares. You can select the number of columns and rows to crop the image, as well as the export format.
Click on the "Split your image" button. Then upload your image.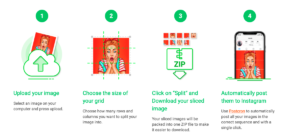 https://postcron.com/image-splitter/en/
Find it here