Generate calligrams to hide clues with text.

Does it require an electronic device? No
In this example, we will use the free languageisavirus.com website which allows you to generate calligrams, but it is possible to use other websites that offer the same manipulation.
Click on the link to access the calligram generator.
Click on the "Launch visual poetry" button.
Enter your poem or other text in the "Text" field.
Choose the options you want from minimum size, maximum size, random angle, text colour and/or background colour.
Click anywhere on the page, hold down the mouse and draw an image.
Click "Clear" to start over or "Save" to save your design as an image. Click on "File" and then "Save as".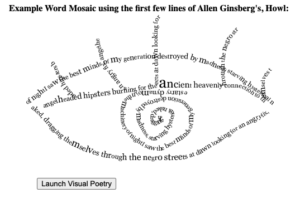 http://www.languageisavirus.com/visual-poetry/
Find it here